You put a lot of thought into what you collect from applicants and reviewers in order to select your best candidates: their personal information, project plans, budgets, and overall aspirations. That's a lot! Once you have all that data, what else can you do with it?
Tracking what goes on within your process can help you work a lot faster and more efficiently, and creating reports is an easy way to draw quick conclusions and keep an eye on what's going on.
But building reports can be tricky, especially if you're using a third-party software or manual spreadsheets. Luckily, SurveyMonkey Apply makes building and customizing reports easy, with all your collected data accessible in one location.
You might be asking, though, 'what reports should I be running?'.
SurveyMonkey Apply has hosted over 1000 application and review programs, while helping hundreds of organizations with grants management, scholarship management, and program management, to collect millions of data points every year. So we've seen it all!
Here are the three most common reports that our customers use to help them create a better, more efficient process.
Applicant progress report
Tracking how applicants move through your process is incredibly important. That's why the applicant progress report rolls in at #1 on our list. With this report, you can visualize your application funnel from end-to-end. You can:
• See how many total applicants have registered
• Understand which step in the process takes the most time
• Easily determine how many applicants have started but not completed their application
• Drill down into each stage to see which applicants are where
• Initiate next steps for applicants who have incomplete submissions when the deadline approaches
The applicant progress report eliminates the need to sift through data cells, use manual filtering, or tediously search for incomplete applications. This report cuts down on time spent managing data and leaves you with a clear understanding of where your applicants are headed. Keeping an eye on these metrics will also help you make sure that your applicants are able to seamlessly move through your process.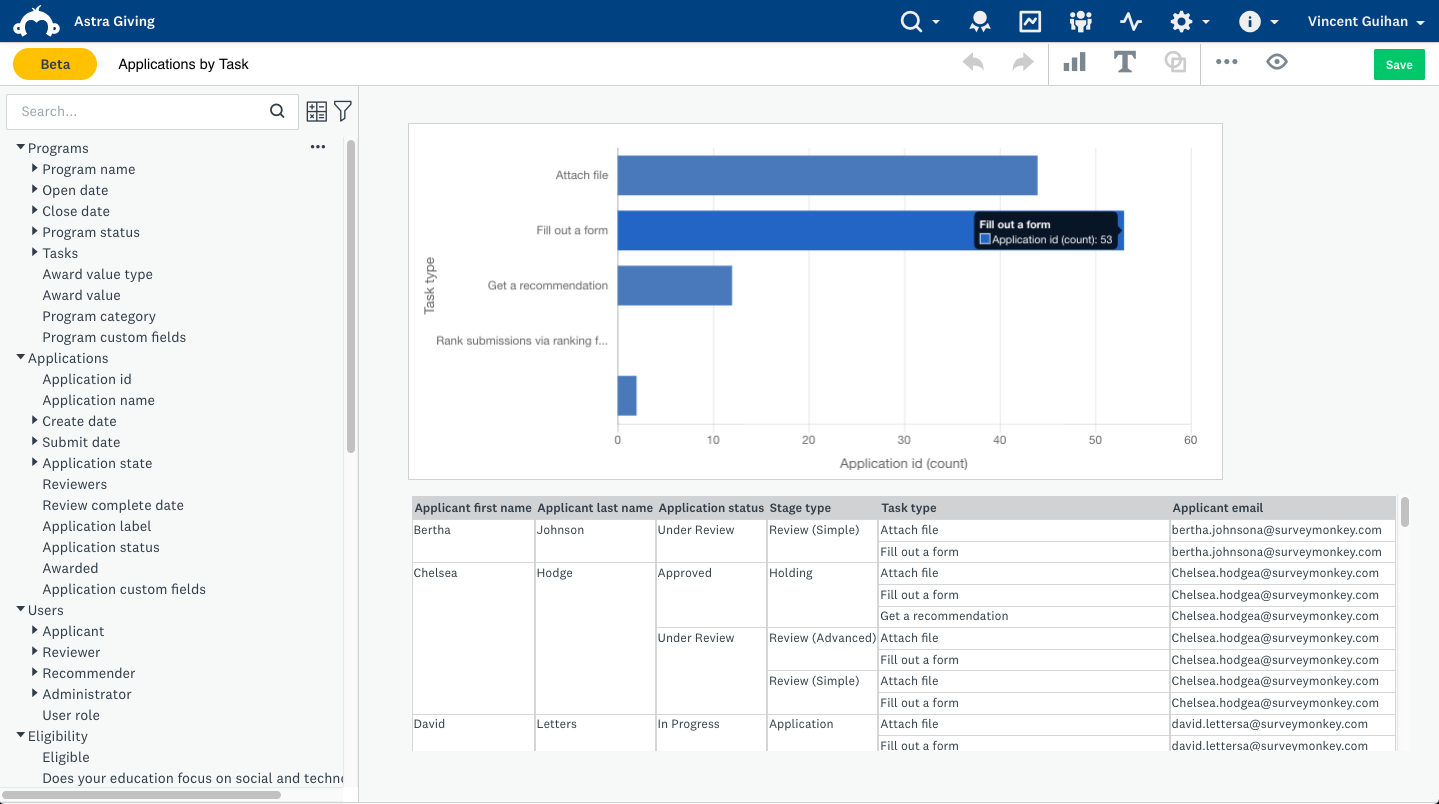 This simple bar chart shows how many applicants are completing a specific stage in the application process. The sheet below offers more detailed information about which tasks an individual applicant has completed so far.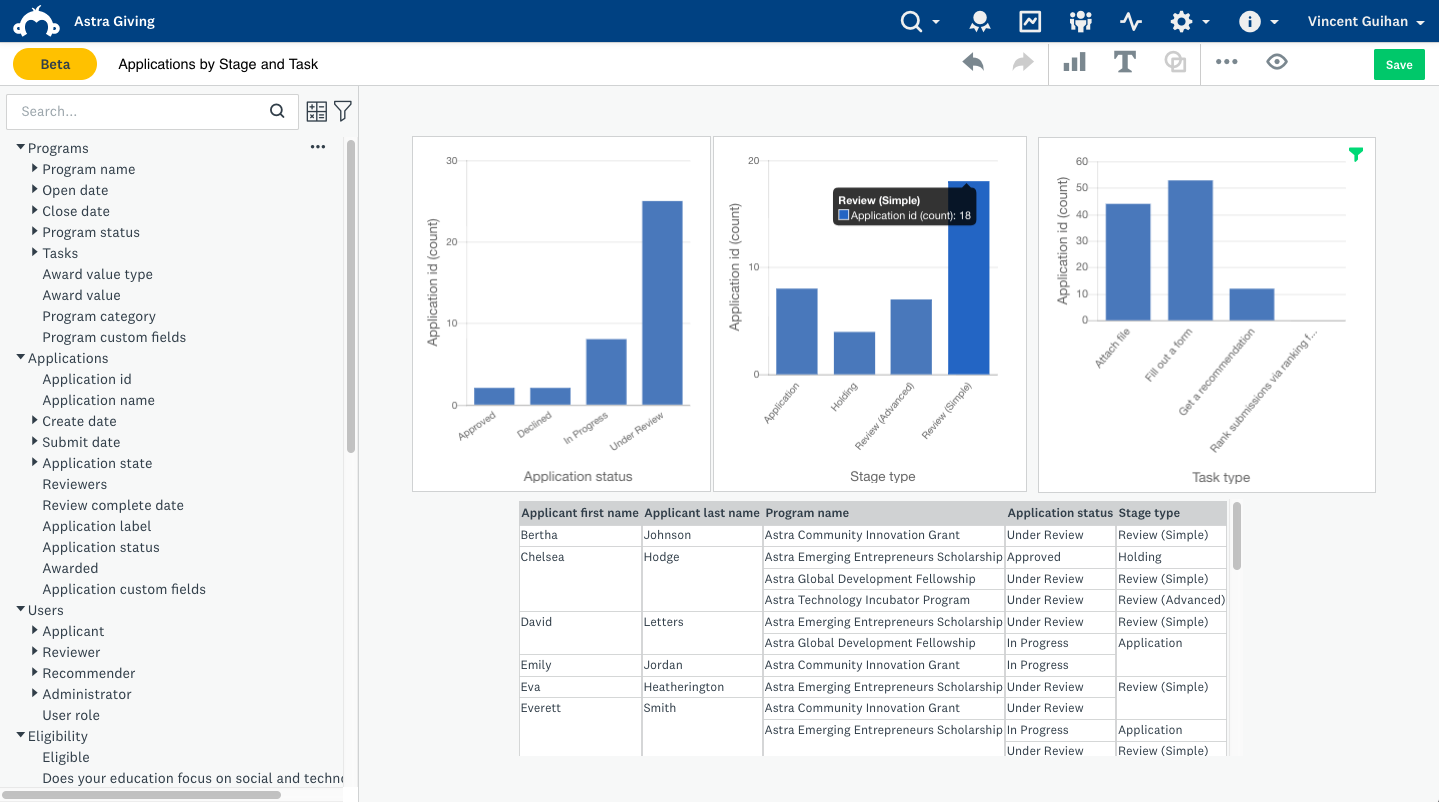 In this report, we see how many applicants have completed each stage in the application process, alongside more detailed information about which application is in which stage or step specifically.
Reviewer progress report
When volunteers or other members of your team assist with the review process wires can get crossed, bottlenecking the process. The reviewer progress report breaks down each step in the review process, so you can keep an eye on how your applications are making their way through review. You can:
• See how many total applications are ready for review
• Easily determine how many reviewers have started but not completed their evaluations
• Drill down into each review stage to monitor each reviewer's progress
• Ensure that each reviewer has an equal or appropriate number of tasks to complete
• Initiate next steps for reviewers who have incomplete evaluations when the deadline approaches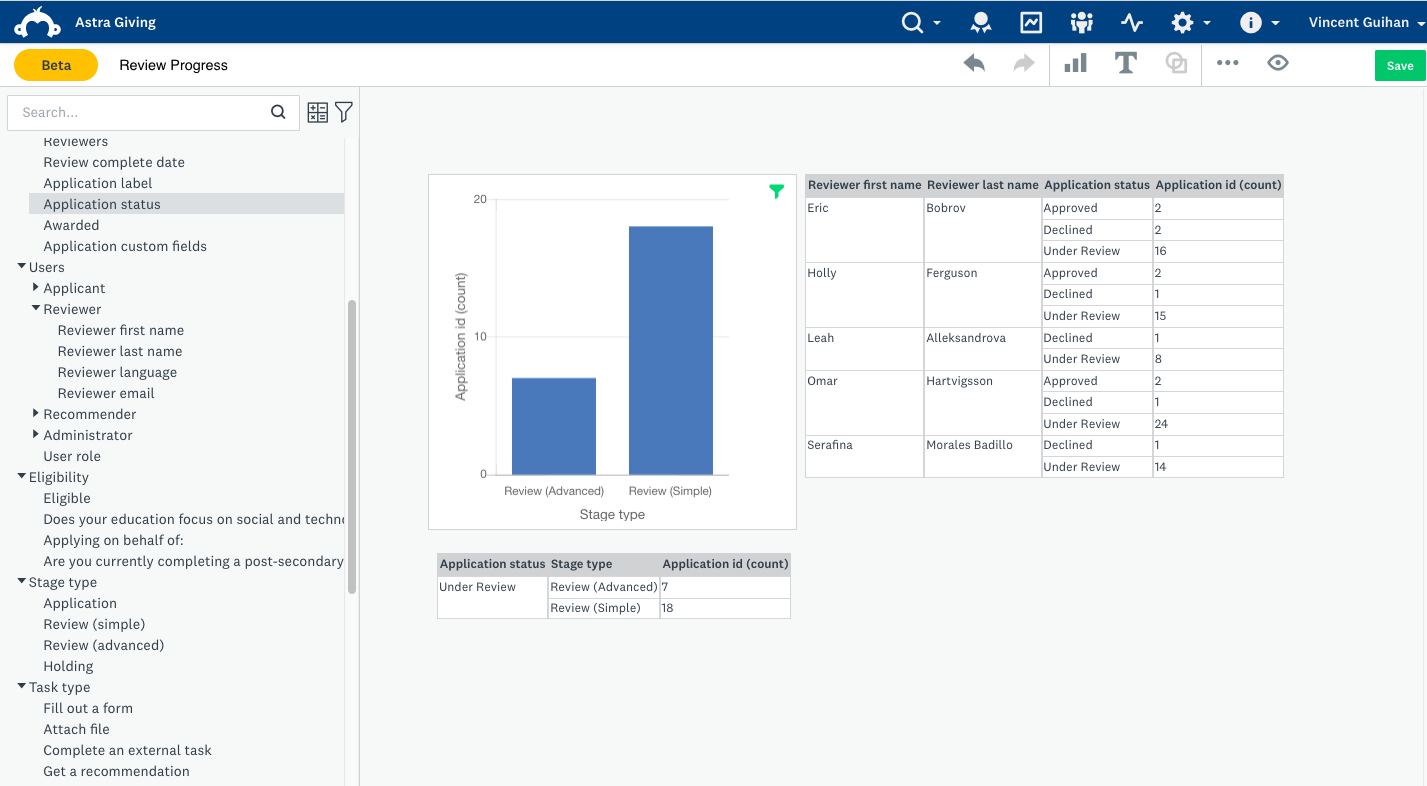 This report visually shows how many applications are in each of the two stages of review. The table to the right offers a more detailed look into each reviewer's progress, and how many applications they have outstanding/are still "under review".
Top application report
When reviewer scores start rolling in, you'll want to know which applications your reviewers think are the best. Maybe you want to keep an eye on successful applications, dig into the application content yourself for some light reading, or identify potential applications for future invite-only programs. Whatever the reason, knowing which applications receive the highest evaluations can offer valuable insight into the programs you may be funding, or the awards you may be granting. The top application report rolls in at #3 on our list. You can:
• Quickly see which applications are preferred by the majority of reviewers, and watch rankings change as results roll in
• Monitor changes in scores
• Understand trends and which applications are competing at the top level
• Easily determine which applications are worth further review or consideration
• Start planning for the awarding process
The top application report allows you to keep an eye on your applicants as they progress through the review stages and gain a better understanding of which applications are most successful. This eliminates the need to tabulate results manually or spend time performing calculations. The report offers you visibility into the reviews as they come in, so that your findings continue to be updated throughout the process, automatically.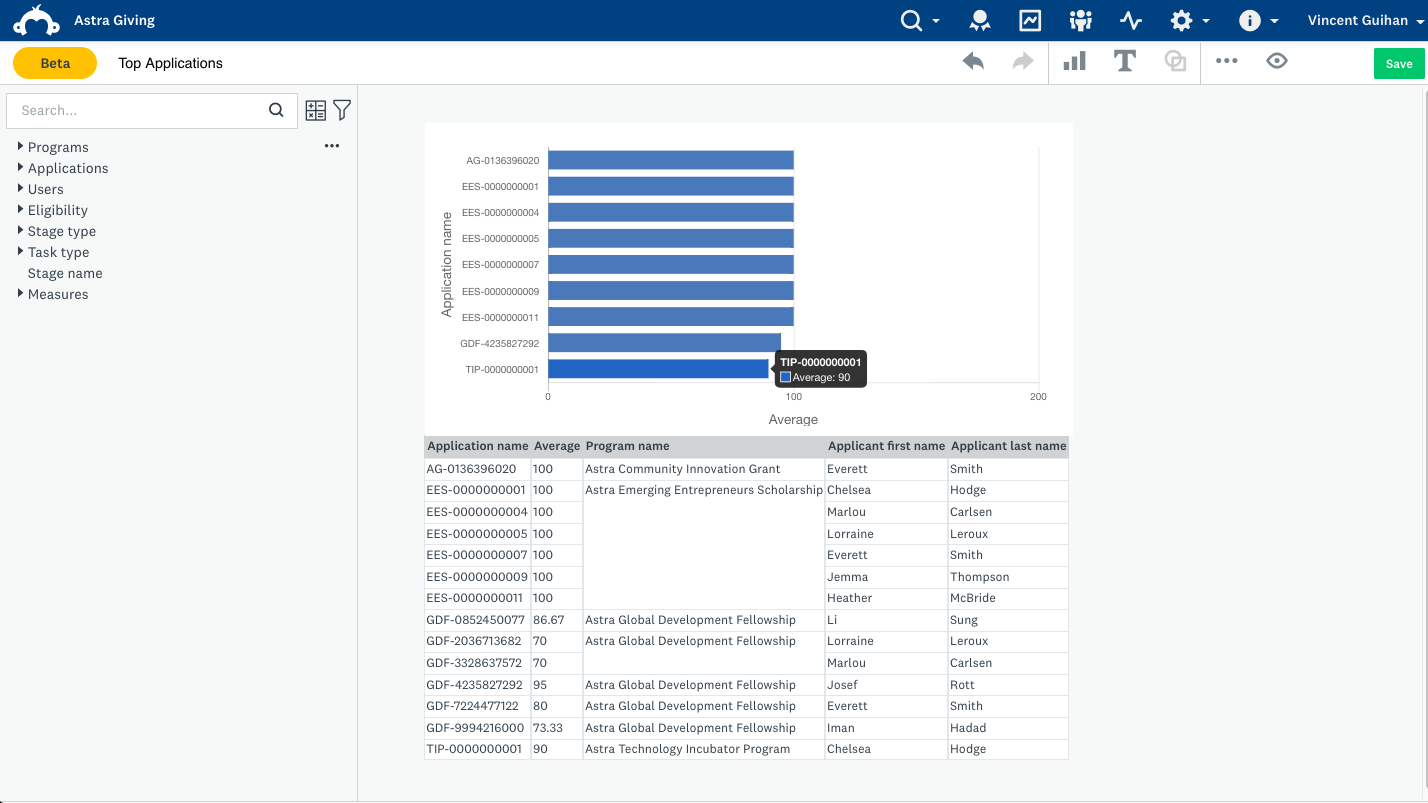 This bar chart shows applications in the top 10% of highest ranking by reviewers. The table below offers more detail into which applications are in the top 10%, the name of the applicant submitting, and the corresponding scores.
—
To learn how you can begin creating these reports for your program, get in touch by filling out the form below!