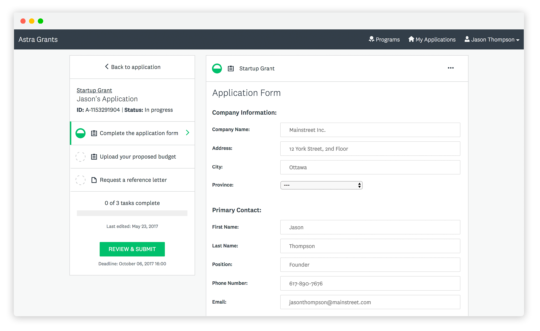 Create a frictionless application experience
Set up an intuitive portal for applicants and clearly display opportunities, instructions and requirements. Make it easy to fill out forms, upload materials, and provide references in one place, from any device.
Applicant portals

Set up an intuitive portal where applicants can easily view and complete your opportunities and requirements, and track their application status.

Smart forms

Capture the information you need with dynamic online forms. Easily build application forms and make use of over 20 question types, skip logic, and more.

File uploads

Accept documents and media files with ease, in the format you specify.

Eligibility screening

Automatically pre-screen incoming applications and ensure that you only received qualified candidates.

Collaborative applications

Make it easy for applicants to work together on applications, in real-time, from different devices.

Automated references

Enable applicants to request reference letters, and for referrers to submit references, directly through SurveyMonkey Apply.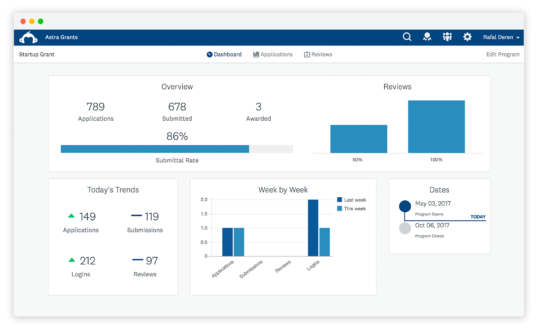 Make your work easier
Bring your entire application and review process together in one place. Keep everything organized, centralized and automated, so your process runs smoothly, everyone knows where things stand, and everyone can get what they need.
Program workflows

Easily customize application and review workflows for your programs. Ensure everyone can do what they need to do.

Workflow automations

Automate repetitive tasks - validate incoming applications, send notification messages, move applicants between stages, and more.

Application tracking

Easily store and retrieve application data, and track applications as they move through your process.

Insightful dashboards

Create and monitor insightful dashboards in real-time and never lose track of what's happening.

Relationship management

Send, manage and track all email communications with your applicants and reviewers.

Role-based permissions

Provide granular, role-based permissions to your staff, and maintain audit trails of all actions.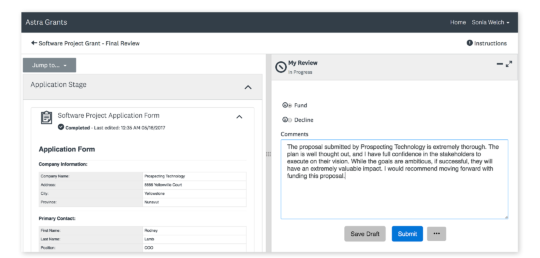 Select your best candidates
Streamline application reviews, creates a seamless experience for reviewers, and collect the feedback you need to make the right decisions.
Reviewer portals

Provide reviewers with a straightforward, intuitive portal where they can access all application materials.

Side-by-side reviews

Give reviewers the ability to view application materials in parallel with review forms. No more toggling back and forth between screens, or shuffling through papers.

Automatic review assignments

Automatically assign applications to reviewers based on criteria you establish.

Simple reviews

Provide reviewers with a simple scale for reviews, like a yes or no or one-to-five rating.

Advanced reviews

Create custom review forms and capture the information you need. Include a variety of question types, like multiple choice or text-response.

Review notes and comments

Enable reviewers to easily leave notes and comments on applications, or application materials.