A common step in an application process is issuing documents such as grant agreements or letters of acceptance to successful applicants. These documents often require a high degree of personalization, making them time consuming to prepare. Program administrators often use external mail-merge software to create these personalized documents, or even prepare them manually, copy and pasting the correct information into each document for each recipient.
You may already know that SurveyMonkey Apply enables you to use piping to auto-populate data into emails, ensuring every email sent from your site is personalized and relevant to the recipient. Now you can take personalization one step further by using this same functionality to dynamically insert data into documents attached to those emails.
Why dynamic documents?
Eliminate unnecessary effort and accelerate your communication
Attaching dynamic documents to your automated emails can save you countless hours that were previously spent generating personalized documents and emailing them manually. Dynamic documents allow you to personalize your communication to connect with your recipients faster.

Ensure consistency of data
Piping data from applications, rankings, and custom fields will ensure consistency, and eliminate human error in generating important documents.

Present polished, branded letters
Customize your letters and certificates to ensure your brand is well represented in your communication.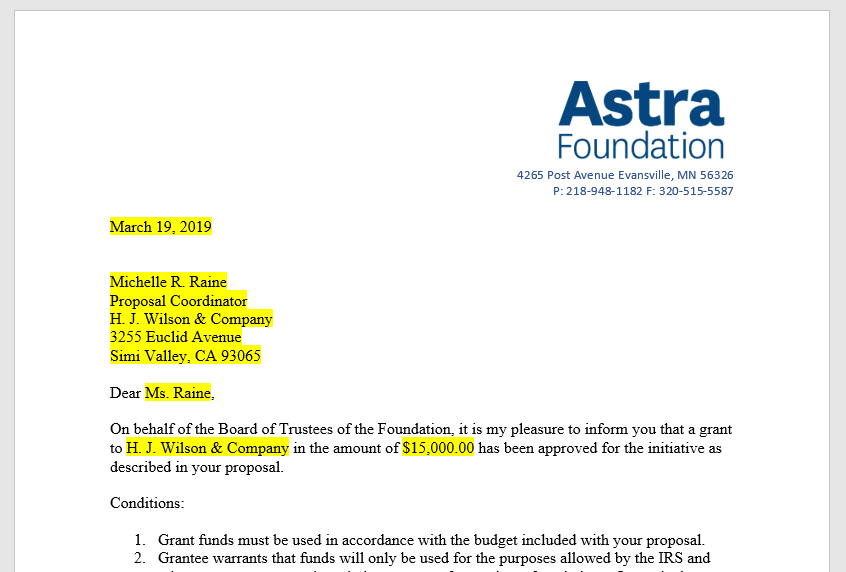 Not sure how Dynamic Documents can fit into your process?
Check out how our users are taking advantage of this today. Here are a few examples:
When distributing a scholarship acceptance letter:

Allow SurveyMonkey Apply to pipe in applicant information like name and address, the fund from which they have been awarded, and the amount they will receive.

When requesting a cheque from the Accounts Payable team:

Allow SurveyMonkey Apply to pipe in pertinent payee information, payment date, and amount due to initiate the process of issuing a cheque.

When selecting successful applicants:

Allow SurveyMonkey Apply to automatically generate an email to successful applicants with a personalized letter of congratulations on organizational letterhead, and include a certificate of completion.

When issuing a form that requires multiple signatures from the applicant, the organization, and an institutional seal

: Allow SurveyMonkey Apply to pipe previously collected information into these forms to eliminate duplication of effort for the applicant, and ensure consistency of data.
It's time to eliminate the painful process of creating and emailing your acceptance letters and other documents! Dynamic Documents will enable you to further automate your communication to applicants, reviewer, and other stakeholders in your process.
—
Get started with our step-by-step documentation, or chat with our Customer Success team.